低氮冷凝燃油(气)真空热水锅炉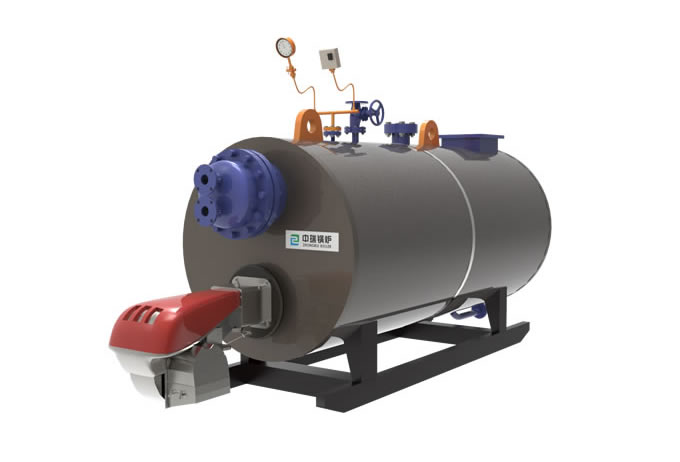 卧式燃油(气)真空热水机组锅炉
特性描述Feature description
技术来源 Technology source
采用日本真空热水锅炉的制造技术和欧洲的低NOx燃烧技术。Use manufacturing technology of Japanese vacuum hot water boiler and European low NOx combustion technology.
工作原理 Operating principle
真空热水锅炉是利用水在不同的压力下,沸腾温度不同的特性进行工作的。例如:在一个大气压下,水的沸点是100℃,而在6mmHg的压力下,水的沸腾温度则是4℃。真空热水锅炉则是在20mmHg-500mmHg的压力范围内工作的,对应的出水温度为15℃~85℃。在此工作压力下,燃烧使热媒水温度上升至饱和温度,并在水面产生相同的蒸汽。此时向热交换器(供热水或采暖)内通冷水,管内的冷水被管外的蒸汽加热成温水并通至用户处,而管外的水蒸汽则被冷却凝结成水滴滴回水面再被加热,从而完成整个循环过程。Vacuum hot water boiler works according to features under different pressures and different boiling temperatures. For example: water boiling point is 100℃ under one standard atmosphere, while water boiling point is 4℃under 6mmHg pressure. Vacuum hot water boiler works within 20mmHg-500mmHg pressure scope and corresponding effluent temperature is 15℃~85℃. Under this working pressure, combustion makes hot medium water temperature rise to saturation temperature and produce the same steam on the water surface. At this time, feed cold water to heat exchanger (supplying hot water or heating), cold water in the tube flows to the user after heated to be warm water by the steam outside tube, the steam outside tube is cooled to be water dripping on the water surface to be heated again, and thus complete the whole cycle process.
主要特点 Major characteristics
1.安全可靠Safe and reliable
始终在负压状态下运行,无膨胀爆炸的危险,具有常压和有压锅炉无法比拟的安全可靠性。Always run under negative pressure, having no expansion and explosion danger and possessing the incomparable safety and reliability by atmospheric pressure and pressure boilers.
2.无需资格审查No need of qualification examination
不属于"压力容器安全法规"的范畴,不需要资格审查。It doesn't belong to category of "pressure vessel safety code" and doesn't need qualification examination.
3.一机多用的理想功能 Multi-purpose ideal function
一台真空锅炉可以实现采暖、卫生热水等多种需求。One vacuum boiler can realize many demands of heating, hygienic hot water, etc.
4.炉内不结垢,真空无氧,寿命更长 No scale in the furnace, vacuum without oxygen, long service life
使用处理后的软化热媒水,炉内不结垢;炉内保持高真空无氧,大大降低了炉内腐蚀;机组使用前热媒水一次性充入机组内,维护管理方便,在使用寿命期内不需要更换。使真空锅炉的使用寿命达到半永久性。Use the softened hot medium water after treatment, no scale in the furnace; maintain high vacuum without oxygen and it greatly decreases furnace corrosion; feed hot medium water into unit at a time before use of unit, convenient for maintenance and management, no need to exchange it during the service life, to make the service life of vacuum boiler reach to semipermanent.
5.真正的高效环保产品 Really high efficient environment friendly product
采用欧洲先进的低NOx燃烧器,排烟远低于国家规定的标准,完全符合国家一类地区环保要求。Adopt European advanced NOx combustor and its smoke evacuation is far below national prescribed standard, completely complying with environmental protection requirements of state Class I area.
6.微电脑智能控制,自动化程度高 Microcomputer intelligent control, high automation degree
触摸屏显示,虚拟按键,中文及图形显示系统工况,在线操作指南,故障自诊断,全自动运行加手功操作可一用一备;实现人机对话.Displayed by touch screen, virtual button, Chinese and graphic display system working condition, on-line operating instruction, breakdown self diagnosis, full-automatic running with manual operation, one for use and one for standby, realize man-machine conversation.